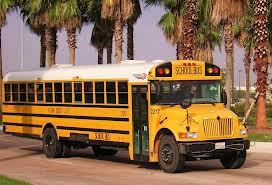 Now that the first back-to-school day is officially passed in some states, I want to talk about something simple, yet understated, and in urgent need of addressing.
One of my pet-peeves when driving anywhere in the United States is to see rental cars passing yellow school buses on the streets.
From Europe myself, I understand where this is coming from – they simply don't know any better!
American drivers have no excuses, and there is usually zero tolerance for infringing this law.
But tourists arriving from Europe (or elsewhere for that matter) many a time do pass stopped school read more >>>
Source : <a href=http://feeds.huffingtonpost.com/c/35496/f/677098/s/49637e63/sc/7/l/0L0Shuffingtonpost0N0Csidonie0Esawyer0Ckeep0Eour0Echildren0Esafer0Ib0I80A56860A0Bhtml0Dutm0Ihp0Iref0Ftravel0Gir0FTravel/story01.htm target="_blank" title="Keep Our Children Safer — With One Simple Step." >HuffingtonPost.Com