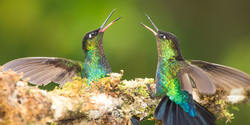 Back in 2012 I visited the small village of Mindo in Ecuador where I spent my days getting lost in remote cloud forests, surrounded by the most beautiful birds I'd ever seen. It was a hub of Hummingbird happiness.
There wasn't a week that went by after that trip that I didn't dream of being immersed once more in lush green forests with the sweet buzz of darting hummingbirds filling my eardrums.
I finally had the chance at a similar experience this past May when I took off towards the rainy mountains of Costa Rica.
In my previous blog, read more >>>
Source : HuffingtonPost.Com